Shea Butter is an incredibly popular ingredient in skincare. Known for it's high concentration in fatty acids and vitamins, it is infused into many skincare products for it's abilities to smooth, soothe and condition the skin. But, what are the benefits of Shea Butter for skin?
Charged into our body, hair and scalp care products, discover why we use Shea Butter in our transformative skincare therapies for the ultimate in skin confidence this Winter…
What Is Shea Butter?
Shea Butter is a fat that has been extracted from the nuts of the Shea Tree. Most Shea Trees are native to West Africa, and most Shea Butter comes from this part of the world. It has an off-white, ivory colour and is solid at room temperatures.
Due to it's high concentration of skin-loving vitamins and fatty acids, Shea Butter has been used as an ingredient in cosmetics for centuries, however it can also be used as a fat for cooking.
What Are The Benefits Of Shea Butter For Skin?
Shea Butter comes with a hefty list of skincare benefits. It is safe for all skin types and it is very low in the proteins that may trigger allergies and it doesn't contain chemical irritants that clog pores and dry out the skin. Here are some other ways Shea Butter can benefit your skin and keep it feeling nourished and moisturized from head to toe…
It's anti-inflammatory: Shea Butter contains plant esters that have been discovered to have anti-inflammatory properties. When it is applied to the skin, it may help cause inflammatory cells to slow their production.
It's rich in anti-oxidants: Shea Butter contains anti-aging Vitamins A and E that may protect your skin cells from free radicals that can lead to premature aging and lacklustre, dull-looking skin.
It doesn't make your skin oily: Shea Butter contains linoleic and oleic acid that balance each other out. This makes Shea Butter easy for you skin to absorb and won't make your skin oily or greasy after it has been applied!
It may help treat dandruff: In a scientific study, it was found that when Shea Butter is used in combination with other moisturisers, that it could help decrease flare-ups and dandruff flakes. However, more research is needed to support how effective Shea Butter is when used alone to treat dandruff.
It may help treat eczema and psoriasis: Duo to it's rich anti-inflammatory properties, Shea Butter may help relieve skin itching and soothe the skin, which may be helpful in relieving the symptoms of inflammatory skin conditions including eczema and psoriasis.
It may help prevent acne: Shea Butter replenishes moisture within your skin and locks it into your epidermis (the outermost layer of the skin) to prevent your skin drying out or feeling stripped of oil. This helps to balance the natural oils in your skin, which may help prevent acne before it begins.
It helps renew skin cells: Your skin is always making new skin cells to help get rid of dead ones. Did you know that you can get rid of between 30,000 to 40,000 skin cells per day?! With the correct amount of moisture on the surface of your skin, this means that you'll have fewer dead skin cells to make way for newer, fresher ones.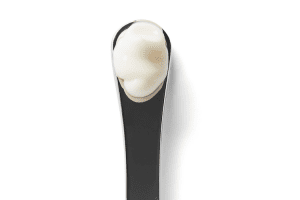 How Do You Use Shea Butter?
Shea Butter is easy to use and can be applied directly onto your skin and hair. Raw, unrefined Shea Butter is recommended as this version is easier to spread. You can use your hands to scoop a teaspoon of Shea Butter from the jar, rubbing it onto your skin until it is fully absorbed.
Don't let your hair miss out on the nourishing benefits of this rich, replenishing ingredient. Shea Butter can also be directly applied to your hair. For example, if your hair is naturally curly, Shea Butter can be used as a conditioner to help moisturize and hydrate your curls and you can also use a small amount through the lengths and ends of your hair as a leave-in conditioner. If you have naturally straight or fine hair, try using Shea Butter only on the ends of your hair to prevent it looking oily or weighed-down.
Your Shea Butter Skincare Routine
During Winter, your skin can become dry, dull and dehydrated due to the sudden drop in temperatures and blistering cold winds. This can cause the water in your skin to evaporate more quickly and make your skin feel tight, taught and dry.
Shea Butter is charged into our most nourishing, moisturizing products that can help lock-in moisture and protect your skin from Winter's harsh elements. Tackle Winter skin and prevent dullness and dehydration with our face, body and hair care products infused with Shea Butter to help transform dry, flaky and dehydrated skin and scalps back to life with lasting hydration and radiance.
Transforming Body Cream: This rich, emollient Shea Butter body lotion boasts the same intensely moisturising benefits of our iconic Transforming Body Lotion and features our famous LaH6 Complex, with the addition of Omega Oils, Cocoa and Shea Butters to smooth and intensely nourish the skin during the cold Winter season. Clinically proven* to moisturize the skin for up to 12 hours.
92% agreed their skin felt intensely nourished and hydrated*
Replenishing Facial Cream: Boost your skin's moisture levels this Winter and help protect it against environmental aggressors with this deeply hydrating Shea Butter moisturizer. Formulated with powerful active ingredients including Shea Butter to help even skin tone and the appearance of fine lines.
Intensive Hand Therapy: Don't forget to protect your hands from becoming dry and flaky this Winter with this nourishing Shea Butter hand cream infused with Sweet Almond Oil and AHAs to leave them feeling amazingly soft, smooth and conditioned.