Ameliorate recently hosted a 20-minute meditation session led by Ambi Kavanaugh, certified Reiki Master, astrologer, sound healer, life coach, and podcast host. We had the chance to ask her a few questions about the importance of meditation and why she believes meditation is an important part of any skincare routine.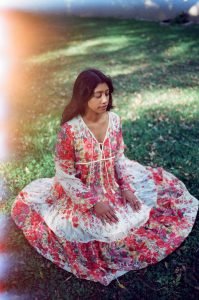 Here's what she had to say:
Can you share your career journey and how you became involved with meditation?
I actually started meditating with my parents at the age of 10. During my teenage years I got distracted (as most teens do) and it fell by the wayside for a decade or so. Then, in my early thirties I began to transition out of law, my previous career path, and into the wellness sphere. That's when my meditation practice really took off in tandem with  my wellness business.
What are your top 5 meditation tips for beginners?
There is no right or wrong way of meditating, you can't mess this up
It's okay if your mind is full of thoughts, in fact that is totally normal especially at the outset
Focus on your breath, notice the inhalations and exhalations and any time your mind wanders, come back to your breath
Don't take it so seriously
Relax, that's the whole point!
What is the best environment you would suggest meditating in?
Somewhere peaceful where you are unlikely to be interrupted by others. This could be at home – for example I love meditating in the bath, but if you meditate at home try and do it in a clean and uncluttered space as that will better facilitate your meditation. You can also meditate outdoors, on a balcony/patio, or garden.
What advice would you give to a beginner who is just starting their meditation journey?
Try not to overthink it or take it too seriously. Consistency is key. Meditating for as little as five minutes daily can create a positive shift in your life. Also, don't expect to feel magically at peace right away. This comes with time and practice.
Can you tell us about your skin?
I have oily acne prone facial skin that has some pigmentation marks. The skin on my body is also pigmented as I tend to scar easily. I have suffered with keratosis pilaris and issues with ingrown hairs on my arms and legs. My skin tends to get dry and ashy so regular moisturizing and exfoliating is important.

What does skin confidence mean to you?
Knowing I understand my skin's needs and taking care of them makes me feel empowered. Ultimately for me it is also about being comfortable in my own skin – imperfections and all.
What are your current Ameliorate favorites?
I love using the smoothing exfoliant followed by the transforming body lotion. It's the perfect combination for my skin's needs. I also love the intensive lip therapy as it is deeply moisturizing.
Follow Ambi Kavanaugh on Instagram @alchemyambi for more or purchase her book, Chakras & Self-Care: Activate the Healing Power of Chakras with Everyday Rituals, for more information on meditation and its benefits!
Shop Ambi Kavanaugh's favorite products!