Despite all of the viral serums and must-have cleansers, beauty is entirely personal. Your favourite beauty blogger might swear by a deep, active cleanser that frees her complexion of blocked pores and congestion. However, your sensitive skin may prefer a gentle formula that calms and soothes. We all have different skin concerns and types- an oily skincare routine will require entirely different steps to one for dry skin, and a skincare routine for combination skin differs again. So, when it comes to perfecting your regime, assess your skin and take note of what will suit it before jumping on the latest bandwagon. Today, we're going to focus on one specific skin type and how to build an everyday routine around it.
Keep reading for Ameliorate's guide to a skincare routine for combination skin.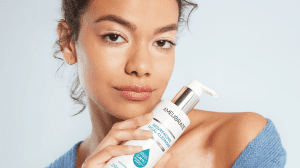 What is combination skin?
To begin, what exactly is combination skin? Combination skin means that you don't necessarily fit into either the 'dry' or 'oily' skin types. Instead, you tend to be both. For example, you might have an oily T-zone (the center of the face, covering the forehead, nose, and chin). Meanwhile, your cheeks and jawline might experience some dryness.
Do I have combination skin?
Although we may now know what combination skin is, it can be difficult to differentiate whether that is, in fact, your skin type. This is because combination skin can vary in its appearance and can be heavily affected by external factors throughout the year. For example, take note of whether your skin's dryness/oiliness fluctuates around your menstrual cycle, changes in seasons (such as cold air and air conditioning), stress, and lifestyle. These are all factors that can affect your skin.
What does combination skin look like?
With some observation, it will soon become clear whether or not you have combination skin. Look out for the following signs of oiliness such as:
Shininess (in particular around the t-zone)
Pores that appear open and large
Persistent blemishes
Signs of dryness to watch out for include:
Flakes
Rough/uneven texture
Redness
Tightness or irritation
How to build a skincare routine for combination skin?
How to build a skincare routine for combination skin can seem a little complicated at first – do you build it around the dryness or the oiliness? Should you prioritize moisturizer or an intense cleanse?
You may find that the oilier parts of your face (such as the t-zone) tend to be more tolerant to stronger ingredients. These areas can handle those high-strength actives that work to resurface and polish the complexion. However, those drier areas might become irritated and aggravated. To keep your complexion calm, nourished, and radiant-looking, initiate your skincare with your sensitive areas in mind. Build your routine with products that are kind to those areas at the base, soothing any redness and irritation and maintaining and supporting a healthy skin barrier. Once you have the primary steps sorted, you can move on to the products that target specific skin concerns that are associated with excess oiliness, such as spots or blackheads.
What is the best skincare routine for combination skin?
With all of the basics out of the way, let's take a look at the best skincare routine for combination skin.
Skincare routine for combination skin: step 1
To start, we have the cleanser. As mentioned, for everyday use on combination skin, the best formula is one that is specifically designed for dry skin types. Ameliorate's Resurfacing Facial Cleanser melts onto the skin and gently resurfaces to provide a smoother, softer texture that's plumped with moisture.