Take 
a deeper dive int
o how and why we use lactic acid in our effective, science-led formulations t
o give you the ultimate in skin confidence. 
Read on to discover more about this buzzworthy skincare ingredient, why we use it
 in our
 transformative therapies
and how it
 can
help bring
 dry
, dull and
 dehydrated skin back to life with lasting radiance…
What Is Lactic Acid?
Lactic acid is part of a group of chemical exfoliants called alpha-hydroxy acids (AHAs) that are used in a wide variety of over-the-counter and professional skincare treatments. Compared to super-potent glycolic acid, lactic acid is a combination of AHA's and humectants, meaning that it is a milder exfoliant and is therefore more suited to those who suffer with irritated, dry or sensitive skin. 
It is naturally found within milk and dairy products and is what gives yogurt and sour milk its unique tang, but nowadays it can be synthetically produced. Due to it being suitable for all skin types, the effects of lactic acid on the skin have been widely recognised by skincare scientists and dermatologists as it helps to reveal a brighter, fresher and more radiant complexion.  
What Does Lactic Acid Do For Your Skin?
Lactic acid is a mild exfoliant that helps to slough away dry, dull and dead skin cells by stimulating and speeding up the process of the skin's cell renewal. Alpha hydroxy acids (AHAs) help exfoliate and renew skin texture; however, the effects of lactic acid have an extra added benefit that can't be achieved from using regular AHAs. Along with its exfoliating properties, it is the most hydrating alpha hydroxy acid because it also helps to improve the skin's natural moisture barrier, increasing your skin's ability to maintain water and leaving it feeling more moisturised and less dry. 
This hero ingredient also helps to prevent skin-ageing by stimulating collagen production, reducing the appearance of fine lines and wrinkles and helping to increase skin's firmness. If you suffer from hyperpigmentation, overtime it can also help to fade sun spots and age spots caused by too much sun exposure. 
Lactic Acid And Chicken Skin
This hydrating AHA is also a star ingredient when it comes to treating symptoms of chicken skin. Caused by a build-up of protein called Keratin, chicken skin causes rough, dry patches along with 'goosebump' like pimples to appear on the face, legs and arms.  
Our LaH6 Skin Hydration Complex is supercharged with optimum levels of lactic acid to draw moisture to the skin's surface, helping to remove the build-up of keratin that surrounds the hair follicles; relieving you from dryness, tightness and that rough, cracked feeling that is often associated with chicken skin.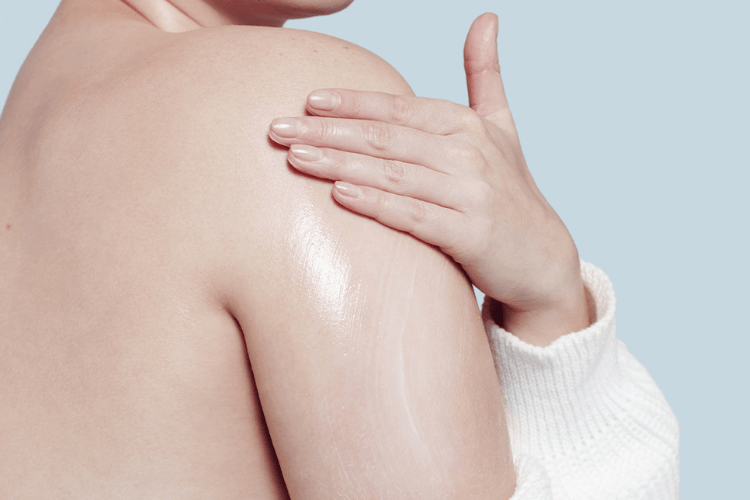 Which Products Contain Lactic Acid?
All Ameliorate products are supercharged with optimum levels of lactic acid, working in harmony with a combination of six active moisturizers within our unique LaH6 Hydration Complex that lock-in moisture to ensure that your skin stays intensely hydrated, plump and luminous throughout the day. 
From our best-selling Transforming Body Lotions, to our soothing scalp care solutions and our resurfacing lactic acid serum in our NEW Facial Skincare Range. Each one of our unique transformative therapies is supercharged with this ultra-moisturizing ingredient to help keep your skin looking and feeling healthy, plump and comforted from head-to-toe.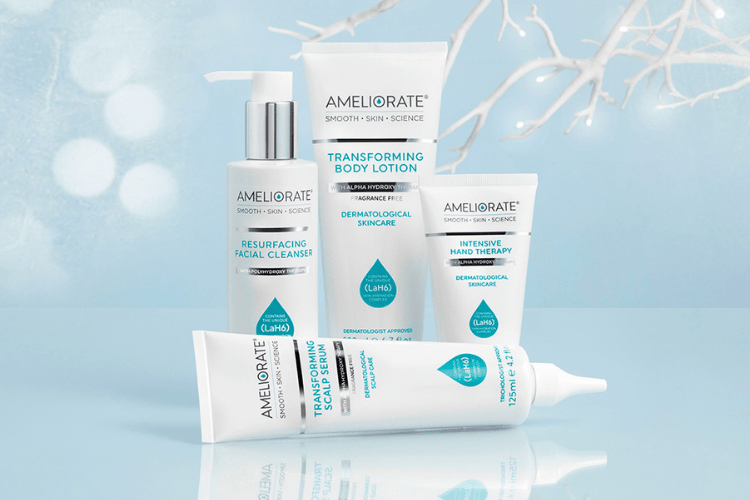 Your Head-To-Toe Hydration Routine
Created by our skincare experts, our NEW Winter Skin Survival Kit  includes 7 full-size products that are loaded with lactic acid, combined with naturally-derived ingredients and high-performance actives to liberate you from the harsh, drying effects of Winter. Your skin will be left feeling smooth, soft and radiant from your scalp all the way to your feet.