A dry scalp can be very uncomfortable, causing itchiness, flakiness and your scalp to feel dry, tight and taught. But, what exactly causes your scalp to feel dry and how do you treat it?
Read on to discover the 5 main reasons that you may be suffering with a dry scalp and how to use our transformative Scalp Care Range that is suited to all hair types and supercharged with our LaH6 Skin Hydration Complex and optimum levels of Lactic Acid to provide ultimate comfort and relief to a dry, itchy scalp for a nourished, soothed and healthier-looking hairline.
Why Is My Scalp So Dry?
A dry scalp can occur for many reasons and the likelihood is that if you have dry skin on your body, your scalp will be dry too. It can often be confused with dandruff as they both present similar symptoms. With a dry scalp, the skin becomes irritated and falls off in flakes, but dandruff is caused by an excess build-up of oil that causes the skin cells to build up and shed, which causes flakiness.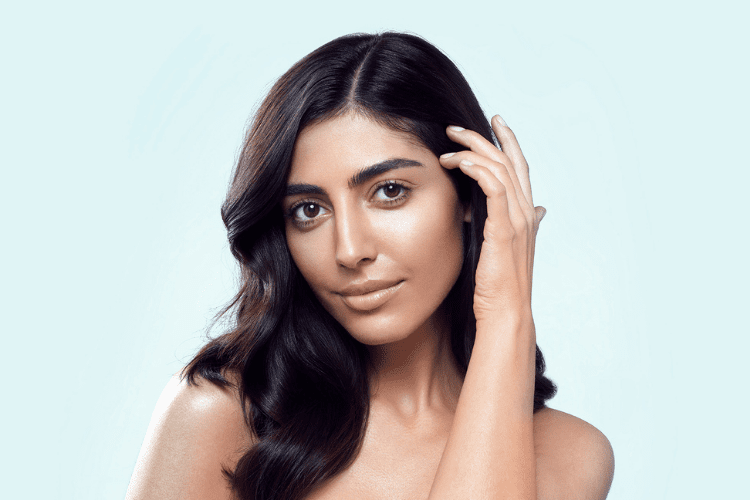 Dry Scalp Causes And Solutions
1. Eczema
A common skin condition, eczema leaves your scalp feeling dry, irritated, itchy, red and cracked. Many lifestyle factors can contribute to an eczema flare up on your scalp including stress, soap and changes in the weather. If you suffer with eczema on your scalp, you will probably also have dry skin on your face, legs and other parts of your body.
2. Scalp Psoriasis
Psoriasis is another common skin condition that can cause flakiness, dryness and itchy patches on your scalp. According to the NHS, psoriasis happens when your cells are replaced much more quickly than usual and research suggests that it is possibly caused by a problem within the immune system. Psoriasis can appear on your feet, hands, face and even your nails but it can also cause your neck, forehead and scalp to become dry.
3. Washing Your Hair Too Much
You might think that washing your hair every day is good for your scalp, but it can strip you scalp of it's essential and natural oils that it needs to stay nourished and hydrated. If you're over washing your hair, you may notice that your hair becomes brittle, weak and your scalp becomes dry and taught.
How much you wash your hair per week depends on your hair type and people with thick hair may only need to wash their hair once a week. If you have fine hair, you might need to wash your hair a couple of times per week however we recommend speaking with your dermatologist or hair dresser as they will be able to advise you on the best hair washing schedule that is personalised to you and your hair.
4. Contact Dermatitis
If you find that your scalp becomes itchy, red, and inflamed after using a new hair styling product, this could be Contact Dermatitis; an allergic reaction that occurs when you use soaps, shampoo's or other hair styling products such as hair spray or gels with certain ingredients. For example, a hair dye ingredient named Paraphenylediamine (PPD) is a common culprit of scalp and skin allergies.
Try and figure out which products are causing this reaction to happen and begin eliminating them from your haircare routine. After removing the product, you should notice your dry scalp starting to improve after about a month.
5. The Weather
During the bitter cold Winter months, the air is significantly less humid and this can cause your skin and scalp to become dry. We know that the idea of a long hot bath or shower in Winter sounds tempting, but this can actually dry your skin our further and strip it of it's natural oils that it needs to stay happy and healthy. Instead, turn down the temperature and use warm water instead and try to reduce the length of your time in the tub to help your keep your scalp and skin moist and hydrated.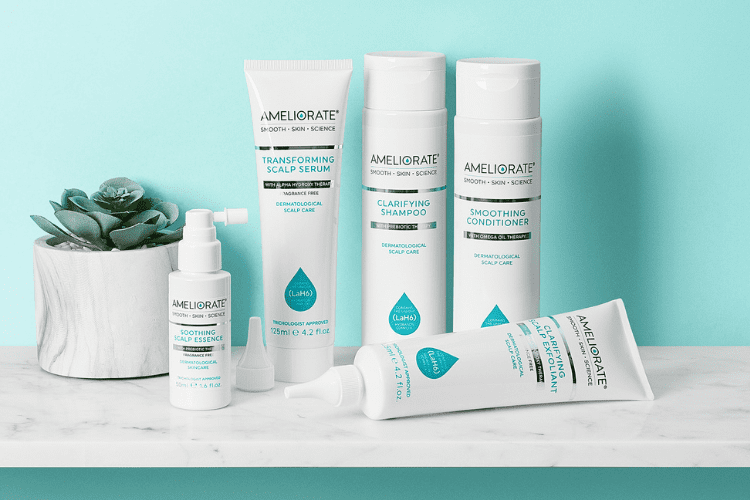 Your Dry Scalp Routine
Our trichologist-approved Scalp Care Range is formulated to provide comfort, relief and intense nourishment to a dry, flaky scalp and is supercharged with Lactic Acid to gently exfoliate, hydrate and restore moisture levels.
Step 1: Cleanse And Condition
Start your hair care routine by using our Clarifying Shampoo and Smoothing Conditioner; the perfect shampoo and conditioner for a dry scalp, this purifying and clarifying duo and is pH balanced and formulated with Prebiotics and Omega Fatty Acids to intensely condition your hair and scalp, rid you of flakiness and is clinically proven* to improve the condition of the scalp in just 7 days.
*Independent clinical trial
Step 2: Treat
For an intensive treatment, use our Transforming Scalp Serum 3 times per week that is loaded Oat Oil and Minerals to enhance the scalp's moisture barrier and gently encourage exfoliation. Or, for a water-based alternative use our Soothing Scalp Essence; a fragrance-free solution that is scientifically designed to rebalance the scalp, increase moisture levels and encourage cell leaving your scalp feeling soothed and comforted and your hair softer, smoother and healthier-looking.