THE INGREDIENTS LAB GLOSSARY
At AMELIORATE, we believe that skincare starts in the lab. Our skin scientists use their expertise to ensure our formulations are powered by highly effective ingredients to deliver transformative results.
Shop Our LaH6 Picks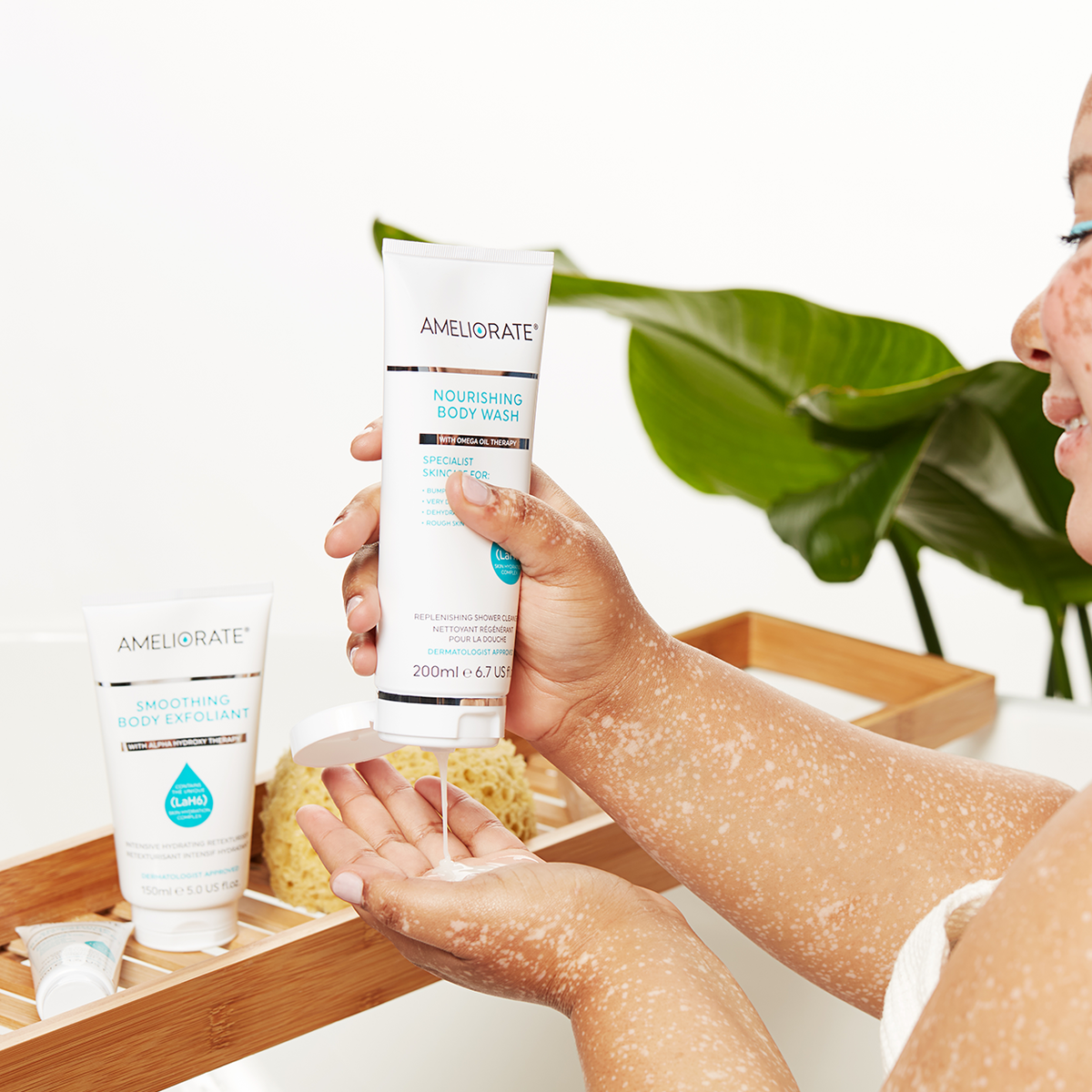 Added to your cart
Sorry, there seems to have been an error. Please try again.
Subtotal: ( items in your cart)
THE INGREDIENTS LAB GLOSSARY
Known to have moisturizing and exfoliating abilities, Allantoin is an effective skin conditioner that helps leave skin feeling smooth.
Helps the skin to recover its ability to retain moisture and gives a feeling of elasticity.
Containing vitamins, beta glucan and natural polyphenols Barley has long been known to have skin smoothing and soothing properties.
As a natural alternative to plastic particles, Ameliorate scrubs use tiny bamboo granules to act as an effective exfoliant.
A natural scource of PHA's (poly hydroxy acids). These act in a similar way AHA's (alpha hydroxy acids) but are shown to be milder and more gentle on sensitive skin.
Sourced in the UK, with a pleasant scent and luxurious feel this oil, rich in Omega 3 and Omega-9 fatty acids is ideal for nourishing and soothing dry skin.
Colloidal oats are made by grinding oatmeal into a powder, known to have cleansing properties and helps leave skin feeling smooth.
An all-in-one ingredient that helps improve flaky looking skin and feelings of itchiness and dryness.
Known to be an excellent moisturizer, helps leave skin feeling soft and smooth.
Helps to reduce skin dryness which helps to soothe and comfort the skin.

Cica's properties help to soothe the skin, leaving it feeling protected.
Believed to be one of the most important ingredients in skincare technology; this important molecule helps to attract and bind moisture within the upper layers of the skin.
Helps to protect skin leaving it feeling supple and nourished.
Lactococcus Ferment Lysate encourages the skins surface renewal process which leaves skin feeling smoother.
A naturally occurring Alpha Hydroxy Acid providing intense hydration and encourages the skin's natural exfoliation process.

This ingredient binds to the dry areas of the skin's surface acting as an excellent conditioner.
Oat lipids are the oily extract of oat seeds containing ceramides. Ceramides are vital constituents of the skin which help support the skin's barrier function and prevent moisture loss.
A multi-functional hair care active ingredient which is film-forming and has been shown to provide intense hydration.
A natural oil produced from almond kernels that helps to protect the skin, keeping it feeling soft and smooth.
Sourced from Africa, Shea is a gentle yet effective moisturizer, rich in Omega 9 fatty acids.
A naturally occurring amino acid, able to bind and attract water which helps to hydrate and protect the skin.
A highly effective moisturizer, with a high water holding capacity, able to attract and bind water to help prevent moisture loss and leave skin feeling hydrated.
Grown in the UK, Starflower oil is rich in essential fatty acids and has been shown to help in the improvement of dry skin.
Found naturally in our skin, it locks in moisture and keeps skin feeling hydrated.
A naturally occuring compound within the skin, it helps to restore the skin's natural oils, leaving skin feeling soft and supple.
Urea is an effective skin moisturizer which helps to attract and bind water and helps prevent moisture loss.