There's a certain theory that as humans, we appear more attractive during the summer months. In fact, the summertime is well known to provide us with a general glow-up thanks to that healthy radiance that comes hand-in-hand with the sun. This leads us to ask, is a winter glow even possible? With cold, dark mornings briefly followed by colder, darker evenings, our chance to get some vitamin D is limited to a few hours during the day (if the winter sun decides to make an appearance, that is.) Therefore, to achieve a winter glow, you must take matters into your own hands. This means exfoliation, hydration, and a little extra help from an illuminating lotion.
Just because the weather is dull, doesn't mean your skin has to be. Here's how to get a winter glow throughout the year's darkest months.

How to make your skin glow naturally at home
To make your skin glow naturally at home, you must first establish the obstacles that winter itself may be putting in your way. One of the most obvious of these is, of course, dryness. So why is dry skin synonymous with the chilly months? There are two large factors at play:
The cold temperatures outside
The intense heat inside
The cold winter weather is low in humidity, meaning that there's very little moisture in the air. The more we are outside in these cold conditions, the drier our skin gets. Following this, we tend to scurry into the comfort of our homes where our heating is waiting for us on full blast. However, this is further detrimental to our skin, as the air emitted by heaters is equally lacking in moisture. Finally, we have our beloved long hot showers, those of which zap the last bit of hydration from our skin. According to Healthline, this is because hot water causes damage to the cells on the surface of our skin. "By disrupting these cells, it creates dry skin and prevents the cells from locking in moisture."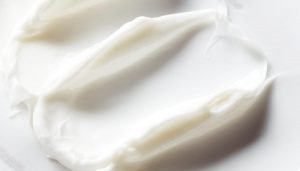 As you can imagine, a winter glow is not possible with dry, flaky skin. The two simply do not go together. So, to make your skin glow naturally at home, you must first ensure it's sufficiently hydrated. Whilst you may already have a moisturizer in your routine, a few additional steps are required to really achieve that winter glow.
Use a resurfacing cleanser
Swap your cleanser out for one that is designed to nurture your face with hydration as it cleanses and purifies. This Resurfacing Facial Cleanser is unique in that it actively increases your skin's moisture levels whilst helping to protect its natural barrier for skin that looks replenished, fresher and brighter. A key part of achieving that winter glow, the creamy formula melts onto the skin and gently resurfaces to provide a texture that's plumped with moisture without that stripped, dry feeling afterwards.